A Bridge Too Far – Shooting From Sydney Harbour Bridge
A trip to Sydney is a travelling photographers treat. You have the iconic opera house, the Sydney Harbour Bridge, the Central Business District, lots of neocolonial buildings, a multicultural society – just about everything you could wish for. Except time! I'm on a trip, part of the day job and I have a couple of free hours to make some images. It's just not fair! I've been to Sydney before, so at least I've got some idea of what to expect, but time is so tight I'm preplanning a shot and hoping it works.
The idea I initially had was to shoot a wide shot of the opera house and the CBD from the top of the south pylon of the Sydney Harbour Bridge. As I'm going in winter, I figure I should be able to get some nice blue hour shots, which were not possible in summer due to the long days. Great idea, except the lookout on top of the pylon closed at 5.00pm. Sunset is at 4.55pm, final admittance at 4:45pm. Bugger.
Plan B.
Plan B is to get on the walkway and wander along the bridge until I get to the North pylon. This should get me a nice angle of the CBD and Opera House, with a stable shooting platform for longer exposures. I set off and walk across the bridge to the North pylon, and anyone who knows it is now laughing…the pylon is inaccessible from the walkway! You can't get to extension like the South Pylon due to a massive steel gate in the way blocking access.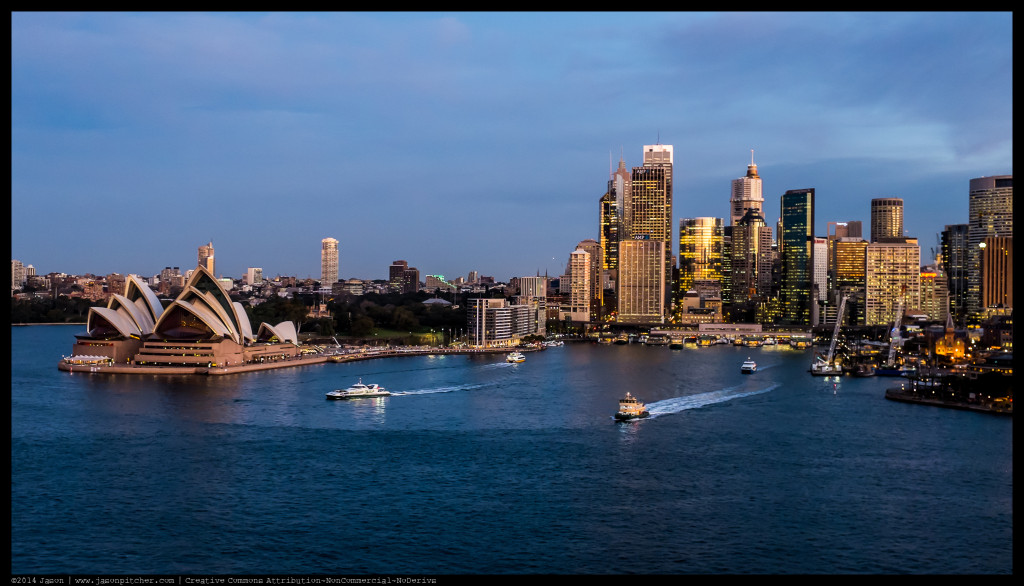 This left me clumsily trying to shoot between the bridge parapet and the jumpers fence. The x100s on the little RRS tripod worked beautifully, except for the vibration of the bridge. I'm shooting at rush hour and bridges tend to vibrate when things cross them, so getting longer exposures was out. If the North Pier had been accessible, this wouldn't have been a problem, as that is stone blocks with deep foundations, but it wasn't to be. Now I (and you) know.
As it got darker, I walked back across the bridge, looking for angles and lights, shapes in the water, patterns etc. Not being able to slow the shutter speed was really a pain as I couldn't drag lights properly or make the water texture soft. Still, it was a lovely evening and a fantastic view.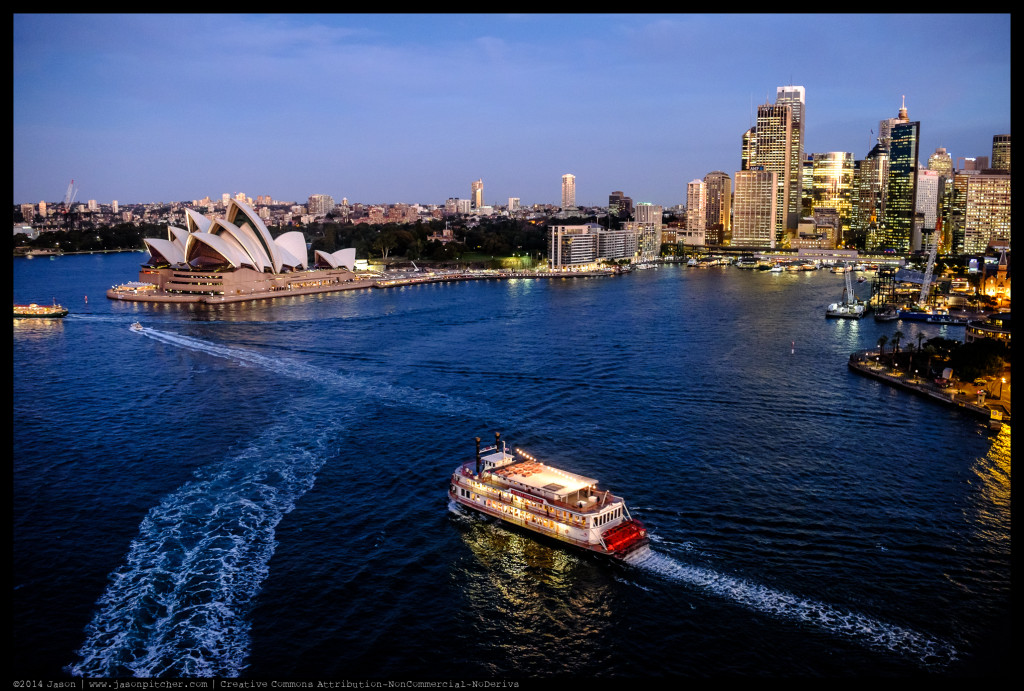 Working my way to the South Pier, where I could get a firm base to get some slower shutter speeds, the problem is I can't get a good angle to get the CBD and the Opera House in the same shot. I could do a Pano, but there's a lot of "dead" space, and I don't like the way the compositional elements work. I settle for a cityscape, which fits my brief.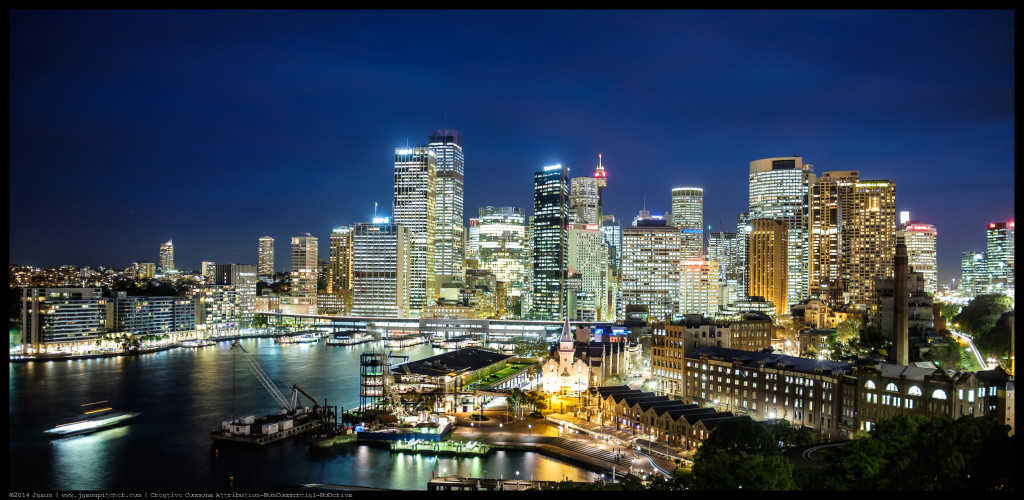 No matter how much pre-planning you do – and pre planning is critical to getting shots, sometimes it just doesn't work out. A local guide would help, but if you are like me, on a time (or cash) budget, that won't work. Where google maps works, use it, but it can't get you everywhere and in some countries it doesn't apply. I spend a lot of time pre-planning, because I hate arriving somewhere and then wasting time trying to figure out where to get a sunset shot, or something interesting. David Hobby's new series called The Travelling Photographer on Lynda.com epitomizes this philosophy. I'm not about to do my laundry in a trash sack, but he is spot on with many of his observations, and pre-planning is definitely one I agree with. There are other tools out there as well, Flickr, 500px, Stuckonearth (a geographic front end for flickr), Panoramio via google, etc. Don't forget that in some countries, you can't access google, so know before you go. Trying to find that site you saw on google when you are in China is an interesting proposition.
If you do want to shoot from the Sydney Harbour Bridge, I hope this post  gives you some insights. Know before you go, what to expect.
More to come…..