PocketWizard for Nikon!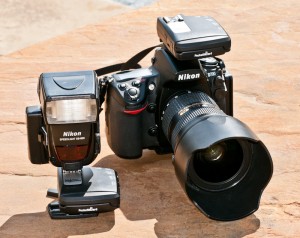 It's finally arrived! I got my hands on a couple of FlexTT5 units and have been itching to play with them. I sold my RadioPopper remotes in preparation and have been keen to try the new units out.
More after the jump….
I got two of the FlexTT5 units rather than one FlexTT5 and one MiniTT1 units as I will eventually want to expand the capability to a second flash unit. To do so I just have to add the MiniTT1, and in the meantime I can learn about the capabilities using a matched pair of units. The FlexTT5 is a bit bigger than the MiniTT1, but it takes AA batteries, so it's a good fit for me. I don't have the AC3 zone controller yet, but that's high on the "get when I can" list.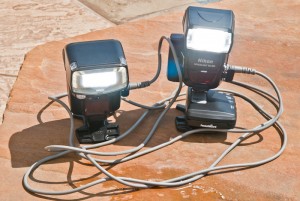 I haven't had a chance to use them in anger yet, but I know that I don't have a flash going off at camera, so I'm already happy. I can also add an old SB-26 into the mix by attaching it to an SB-800 via a SC-26, breathing life into the old flash unit. I won't get any remote control or TTL of the SB26, so it's manual control only (which will delight David Hobby), and while I know it works, I haven't had a chance to work through and understand it's limitations. It will, in the right circumstances, either double my available power or half my recycle time, depending on how they are set up. I have to figure out the settings for consistent performance, but this gives me a new option for extra power. Unfortunately,  SB-26's still go for good money on Ebay, so I won't be augmenting my fleet of flashes with extra ones just for power. SB-25's go for much more reasonable prices, so that may be an option for the budget conscious. I'm still in awe of McNally's Tree of Doom, but without a lottery win I can only dream of having that many SB-800's.
I'll post again on the PW flexTT5 remotes when I get some miles under my belt with them, in the meantime, check out the review on Fstoppers.com and more reviews via PW.com.
More to come…..