Travels with the Fuji X10
After Abu Dhabi, I went to Doha, Qatar for the night. This was a forced layover due to flight connections, so not much time to get out, but I did manage to nip down to the Museum of Islamic Art. I din't have time to go in and enjoy the museum, I hit the ground running to find a spot for a blue hour picture.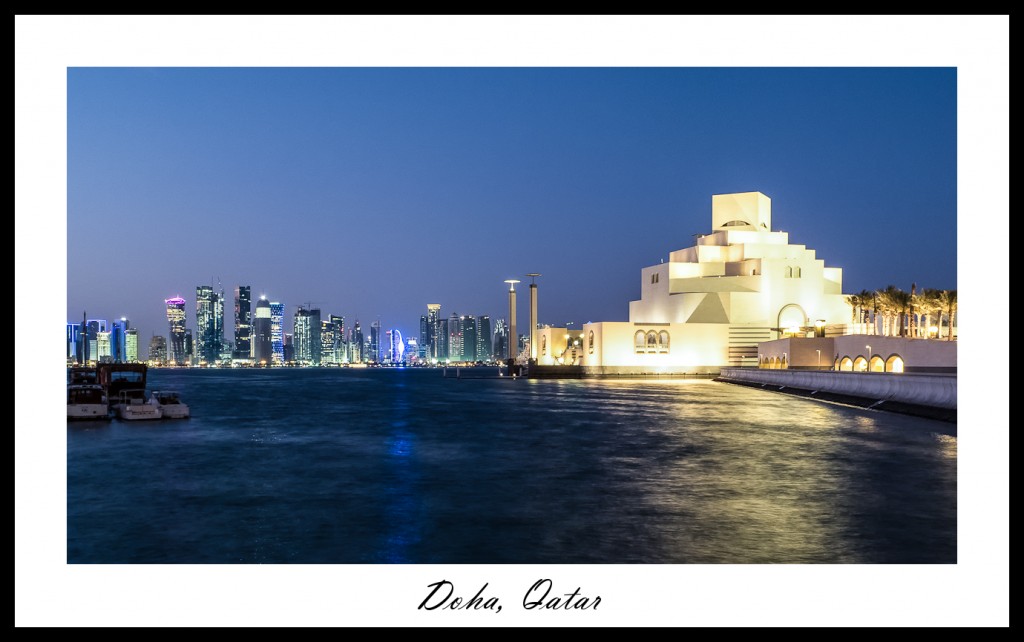 The museum is a beautiful modern design, and given that most of Doha is newly built, this is a striking design. It is built on an island close to the Dhow port, which provides an interesting contrast. After a hurried scoping of the local, I worked my way back down the causeway to the spot where I could get both the museum and the new city skyline in frame. I shot this at iso 400, on the Zipshot tripod with a cable release. F8 and 4 seconds,  the anti vibration turned off. This is a high contrast scene and tested the limits of the sensor package. What you don't see here is the shadowed foreground that blocked up. The best way to control noise is to expose to the right and then adjust in the raw conversion package, but with a high contrast scene like this, you can't do that without blowing the highlights. I did find about a stop of headroom, but I had to use tools I haven't needed in a while. I used Sharpener Pro 3.0 Raw presharpener to get it as sharp as possible out of raw. Then cropped, straightened, white balance tweak, clarity tweak in Lightroom 4, then into Topaz Adjust for some magic. From there, into Lightroom for some final polish and I've got an image that will go to 13″x 7″ native resolution. I would struggle to upscale from there, due to the latent noise, so no posters from this image.
I am pleased with the results. I have to work much harder to get the image I'm looking for compared to the D700, and I'm still concerned about the "white blob" issue, but I'm glad I could work with this package. It helps that I have some software tools already that are very competent at working with these images and issues. I love the Fuji X10, and as I find it's boundaries, I'm very pleased with it's performance, cetrainly happier than I was coming out of Abu Dhabi.
Next stop is Algeria….Algiers the White!
More to come…..